Kent-Paris International Research Symposium
The event, titled 'From London 2012 to Paris 2024: Lessons learned from research into the social legacies of the Olympic and Paralympic games', took place on Wednesday 12 June in the newly created Kent-Paris Research Institute (KPRI) at Reid Hall, the University's postgraduate centre in Montparnasse.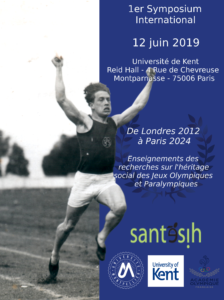 Delegates from 10 different countries took part.
The Symposium brought together academics, sports policy makers and sport national governing bodies with the aim of inspiring new research projects and collaborations.  Participants were able to exchange knowledge on the social legacies of the games and discuss the lessons Paris 2024 could learn from London 2012.
The event was co-hosted by Dr Sakis Pappous, from Kent's School of Sport and Exercise Sciences, in collaboration with the French Olympic Academy, the French Centre for Olympic Studies and the University of Montpellier. Attendees were welcomed by Professor Peter Brown, Academic Director of KPRI, as well as the Presidents of the French Olympic Academy and the French Centre for Olympic Studies.
Following its success this year, the symposium will become an annual event at Reid Hall.
(source : https://www.kent.ac.uk/news/science/22731/kent-paris-research-institute-hosts-first-international-research-symposium)
Programme Symposium à télécharger
Symposium Program download here